Blind Foundation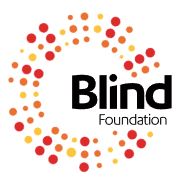 Awhina House, 4 Maunsell Road
Parnell, Auckland 1052
New Zealand

Phone: 09 355 6900
Website: http://www.blindfoundation.org.nz/



Blind Foundation is New Zealand's primary provider of vision-related habilitation and rehabilitation services to blind and partially sighted people.

Each year nearly 1,200 New Zealanders who have gone blind or experienced serious sight loss register as Blind Foundation members. The organization equips its 11,700 members with the adaptive skills, technology and resources they need to create new beginnings and lead independent lives.