Evo E10 DAISY Player and Recorder Overview
Evo E10 Daisy Digital Recorder/Player is a product of Vinvision. This device is about the size of a cell phone. It is light weight and has tactile buttons in contrasting colours in the front. It is a self-voicing device, each operation is confirmed by audio prompts. It has many features which make it easy to use for persons with blindness, low vision and old age.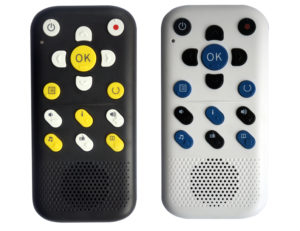 Evo E10 comes loaded with few text-to-speech voices (TTS) for reading electronic text. Additionally, Vinvision has worked with different organizations and launched customized versions of Evo E10 with TTS supporting local languages. One such example is the Saksham Evo E10 which supports many Indian languages. Vinvision is also offering to work with partners to develop and integrate TTS for languages which are not yet supported.
The feature which distinguishes E10 from other models from the same company is the support for DAISY Online File Transfer Protocol and various online libraries like Bookshare. This device can connect to internet using wi-fi. Users can search and download books directly from the device, there is no need to use a computer or smart phone for downloading the books. This feature makes E10 a complete solution for book searching, downloading and reading.
Evo E10 features
Supports reading of books in DAISY 2.0.2 and DAISY 3.0 format.
Supports reading of text using TTS in common formats such as TXT, DOC/DOCX, HTM, HTML, EPUB and PDF.
Can play audio files in MP3, WMA, WAV, FLAC, APE, ACC, OGG, RA and M4A format.
It can play audio embedded in various video file formats such as RM, RMVB, AVI, MP4, 3GP, MOV, WMV, FLV, MPG, MPEG and DAT.
It can also work as a FM Radio.
E10 is also a good quality audio recorder with built-in microphone. External recording devices are also supported using Line-in port.
It can be used as a talking clock, can announce date and time and set up to 5 alarms.
Voice reminders and voice memo are supported.
Evo E10 can also be used as a Talking Compass and Talking Calculator.
In terms of hardware, it has 8GB internal memory which can be extended up to 32 GB using SD card. USB drives can be connected to E10 using OTG cable. The device has a fairly loud speaker in the front. The device firmware can also be updated over-the-air, there is no need to connect to a computer.
Learning to use Evo E10
It is easy to learn to operate this device. One can learn by exploring the device buttons or by reading the user manual.
First orient yourself to the positioning of the buttons. When you hold the device in such a way that the speaker is at the bottom; the top left button is Power and top right button is Record. Below them the circular OK button surrounded by the Up, Down, Left and Right navigation buttons are easy to locate on the device. To the left of the Down button is the Menu button and to its right is the Exit/Back button.
To power on Evo E10, please press and hold power button for 3 seconds.
The usage of the important buttons is explained below.
Menu button: Press once to access Settings, press menu button twice to open File Management. When something is playing, you can press menu button to access playback options.
OK button: Press this button to select the option read by the device or save settings.
Exit Button: Use it to return to previous menu or cancel setting.
Record button: When you are listening to FM radio, you can press this button to start recording it. When nothing is playing, you can press this button to start recording your class lecture, meetings etc.
For more information read the Evo E10 User Manual

Tags: DAISY / DODP / EPUB / Hardware reading system