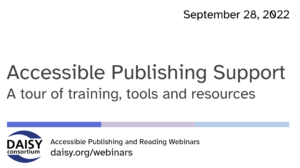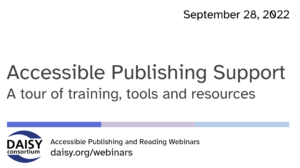 In our series of free weekly webinars September 28th saw a session focused on Accessible Publishing Support which gave a round-up of training, tools and resources available to publishers and content creators. There are many resources available worldwide and this webinar highlighted some of the most used tools and guidance followed by an in-depth look at what is happening in two countries, Italy and The Netherlands.
This page contains:
Full Video of the Webinar
Speakers
Richard Orme, The DAISY Consortium
Elisa Molinari, The LIA Foundation
Hans Beerens, Dedicon
Session Overview
Richard Orme opened this week's webinar with a general overview of training, tools and resources. We've listed these below but the webinar video gives you a lot more information.
Training
DAISY webinar series – 35 hours of material on a broad range of topics
Online courses which include, W3C learning, EPUB Accessibility Using InDesign, POET image description tool, Inclusive Publishing in Practice & the Accessible Publishing Learning Network
Conferences and Seminars – international bookfairs, publishing events
Bespoke training
Tools
A variety of tools are in use to validate and check the accessibility of content. These include DAISY's suite of tools – Ace, SMART (Richard gave a demo) and EPUBCheck (which is maintained by DAISY)
Resources
There are many resources available to publishers who wish to keep up to date with the latest developments in the accessibility space. These include this website, the Accessible Publishing Knowledge Base, epubtest and stakeholder platforms within your own country.
A full list of items mentioned in the webinar can be found at the end of this report.
The Italian Job
Elisa Molinari began her presentation by giving an overview of the work of the LIA Foundation, reminding us of all they have achieved since 2011 when they delivered the first concrete example of the born-accessible principle.
The LIA catalog now features an astounding 30k ebooks from 76 publishers and imprints.
Moving forward LIA still focus on how to make accessibility work via events, certification, consultancy and tailor-made training for their publishers. Having everyone on-board with a shared goal is something that the LIA Foundation urges all publishers to focus on and they have prepared list of tools and resources for all areas of the workflow together with a white paper entitled; "Ebooks For All: Towards an Accessible Digital Publishing Ecosystem". This was produced with the onset of the European Accessibility Act in mind.
The Dutch Oven
Hans Beerens followed with an overview of how accessible publishing is treated in The Netherlands. From a round table meeting of relevant stakeholders some invaluable resources have emerged giving publishers a set of quick start guides to get them started on their accessibility journey and provide them with some quick wins. This working group have also conducted a number of workshops and training programs together with the national website which hosts all of these resources.
Most recently, a project run in collaboration with German and French colleagues has resulted in the training site Inclusive Publishing in Practice which Hans gave us an overview of. Available in 4 languages this site offers 75 learning units over 4 learning pathways – covering a multitude of areas to assist publishers in the creation of accessible content.
It was terrific to be able to see how many resources are available to our industry. Although not exhaustive, the range of resources listed and discussed in this webinar provides a solid base for continued learning.
Related Resources
Resources mentioned in the webinar:
Training
Tools
Reference
Discover the other webinars we're running!
Read More