National Library Service for the Blind and Print Disabled
(NLS)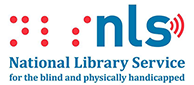 1291 Taylor Street NW
Washington, DC 20542
USA

Phone: 202-707-5104
Website: http://www.loc.gov/nls



Through a national network of cooperating libraries, NLS administers a free library program of braille and audio materials circulated to eligible borrowers in the United States by postage-free mail or online.

Anyone wishing to contact the National Library Service for the Blind and Print Disabled should use the contact details listed above. If it is necessary to send physical items, please use parcel or expedited delivery services, as regular full mail service from the United States Postal Service will be significantly delayed and should not be used.