Royal National Institute of Blind People (RNIB)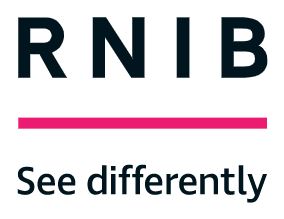 105 Judd Street
London, WC1H 9NE
United Kingdom

Website: http://www.rnib.org.uk



RNIB is the leading UK charity providing direct services to blind and partially sighted people. As a founding member of the DAISY Consortium, RNIB is committed to enabling independence through accessible information, working to introduce digital accessible information across a range of services.

Through partnerships with international organisations, local and national government and the private sector, RNIB aims to increase the adoption of universal design in accessible information, supported, where appropriate by legislation and regulation. Key successes include:
The introduction of the Visually Impaired Persons Copyright Act in the UK.
The introduction of the Disability Discrimination Act in the UK.
Increased awareness of the need for regulation and legislation around accessible information at the European level.
RNIB is a full member of the DAISY Consortium and Web Accessibility Initiative, and seeks to bring about the converging of standards around a focus of design for all.
RNIB's talking book service currently reaches over 40000 blind and partially sighted people in the UK.  The organization has:
Provided over 20,000 people with a digital talking book service, distributing more than 4000 books per day.
Installed DAISY production technology in more than 25 recording booths.
Produced service support information such as catalogues in DAISY format.
RNIB has secured funding to continue the development of accessible information education services in Scotland and Wales, and continues to work in partnership with organisations in the UK to enable the production of full text/audio information for this sector.
RNIB remains at the forefront of development of braille codes, and is driving for improved efficiency in braille production through the use of xml and the DAISY structuring methodology. Approximately 25% of braille production is derived from XML.