DAISY Information Sharing Day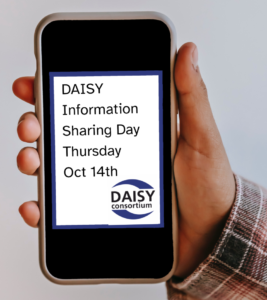 On Thursday October 14th we will be hosting a free information sharing day via Zoom, bringing you updates on a broad range of projects and activities from DAISY and our member organizations. We've divided the session into 3 parts to enable easy access to the topics you find of most interest.
You only need to register once for free to attend any part of the webinar.
Part A: Update on DAISY Projects
Starting at 1200 Universal Time (500 PDT, 800 EDT, 1300 BST, 1400 CEST)
Welcome
Maarten Verboom, President of the DAISY Consortium
DAISY Projects highlights
Update on various projects driven by the DAISY Consortium.
Avneesh Singh, DAISY Consortium
DAISY Pipeline case study
How NLB is leveraging the DAISY Pipeline for production of accessible content.
Jostein Austvik Jacobsen, NLB
DAISY reading experience in your Browser!
What if your favorite DAISY full text full audio or EPUB Media Overlays titles start working on your favorite browser? This will be a game changer not only for making reading more convenient but will also empower the reach of accessible reading to parts of the world which cannot invest in reading solutions due to resource constraints. This presentation will provide a glimpse of the research being done in this direction.
Marisa DeMeglio, DAISY Consortium
Responding to COVID with DAISY Online Training
Dipendra Manocha, DAISY Consortium
Preparing for the revolution in born accessible publishing in Europe
Reporting on the first year of the DAISY European Inclusive Publishing initiative.
Thomas Kahlisch, dzb
Improving access to music braille
Update on the achievements of the DAISY Braille Music project in 2021, and next steps.
Sarah Morley Wilkins, Project Manager, DAISY Consortium
Part B: Updates from DAISY Members
Starting at 1300 Universal Time (600 PDT, 900 EDT, 1400 BST, 1500 CEST)
DAISY in Egypt
This cooperation initiative raises awareness of the challenges encountered by persons with print disabilities in the COVID-19 Pandemic situation, promotes the provision of accessible publications such as DAISY as well as encourage the acceleration of Egyptian Ratification of the Marrakesh Treaty.
Hiroshi Kawamura, ATDO, Japan
Digital braille innovations
Two major braille libraries share will experiences and plans as they expand digital braille reading options for their users.
John Brown, NLS, USA, Dave Williams and Paul Porter, RNIB, UK
Voice Assistants and DAISY Online
Connecting Amazon Alexa and Google Assistant to DAISY Online.
Daniel Ainasoja, Pratsam, Finland
Sign language video in digital publications
How Kenyan education content organization eKitabu is creating early grade reading materials for deaf readers.
Georgine Auma, Digital Literacy Trust, Kenya
Leveraging Machine Learning with Page AI
Bookshare's latest developments in advanced artificial intelligence for better book conversion.
Brad Turner, Benetech, USA
Part C: Accessible Mainstream Publishing
Starting at 1400 Universal Time (700 PDT, 1000 EDT, 1500 BST, 1600 CEST)
The born accessible movement has been gaining momentum in different parts of the world. We will share information how the DAISY Consortium, members and partners are accelerating the global movement towards publish, discover, buy and borrow accessible publications.
We will highlight the new standards and guidelines raising the bar for accessibility that are aligned with the EU Accessibility Directive, facilitating search and discovery, and will also provide a glimpse of the near future plans. And we will share how a DAISY led initiative helps developers improve their eBook reading systems for people with print disabilities, and guides consumers and institutional purchasers to select the solutions that meet their accessibility requirements.
Avneesh Singh, George Kerscher, Richard Orme, DAISY Consortium; Charles LaPierre, Benetech, USA; Erin Kirchner-Lucas, RedShelf, USA; Gregorio Pellegrino, Fondazione LIA; Stacy Ray, VitalSource, USA
Register now to attend any part of this webinar.