ICEVI Africa Region 2023 Event Report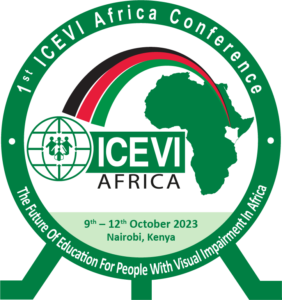 ICEVI Africa Region organised a 3 day conference from 10-12, October 2023 in Nairobi Kenya. Several international development organisations such as ICEVI Global, Deaf-Blind International, DAISY Consortium, Kilimanjaro Blind Trust Foundation, Light For The World, CBM, ABC, Benetech and Sight Savers also participated in the conference.
DAISY Consortium was represented by the CEO – Richard Orme and Director Developing Countries Program – Dipendra Manocha in the event. Richard chaired the international program committee for the event and addressed the participants in the inauguration and valedictory sessions.
The Consortium conducted 2 workshops and DAISY was part of 2 workshops conducted by ABC and LFTW. These workshops covered presentations and hands on experience sessions on:
Creation of accessible books in simple steps using free of cost tools and reading them on variety of affordable devices
Using Android device with hard Bluetooth keyboard as reading and writing tool as low-cost alternative to laptop.
How to apply for ABC capacity building grant for 2024-25
Technology solutions for inclusive education
DAISY Consortium provided a Bluetooth keyboard to all the participants of the workshop on using the keyboard with Android device. Thus, all participants not only learnt about this wonderful development, but also went back with working solution in their hands.
During the workshop on production of accessible books, we introduced the conversion of digital text to audio books using Microsoft cloud voices using very high-quality Kenyan and Tanzanian English voices.
Kenyan English Voice Sample:
Tanzanian English Voice Sample:
These voices were the first exposure of synthetic speech in local accents these variants to the participants. The response was euphoric and extremely exciting.
These converted audio books could be played on very basic devices such as MP3 player speakers, solar powered MP3 players, basic feature mobile phones, etc. in addition to playing them on smart phones and DAISY players. These technologies and conversions opens up huge collection of global libraries such as the ABC Global Book Service and Bookshare to users from the low resource regions of the developing countries.
The event brought together various stake holders from Africa after very long gap due to covid. Events like this help DAISY to work more closely with ICEVI, WBU and DBI to make progress in implementation of the Visionary Learning through ICT program.