Member Activities – 2021 DAISY Information Sharing Day (W)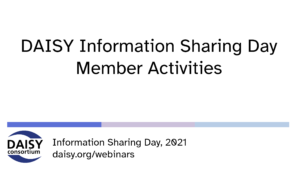 Towards the end of 2021 we held a special DAISY Information Sharing Day webinar. This part of the webinar introduced some of the innovative activities involving DAISY Members.
This page contains:
Speakers
Richard Orme, The DAISY Consortium
Maarten Verboom, President of The DAISY Consortium
Hiroshi Kawamura, ATDO
John Brown, NLS
Dave Williams, RNIB
Paul Porter, RNIB
Daniel Ainjasoja, Pratsam
Georgine Auma, eKitabu
Brad Turner, Bookshare
Session Overview
Maarten Verboom opened the day by welcoming the large audience and explaining that this second session focuses on the activities currently being undertaken by DAISY members.
DAISY in Egypt
DAISY in Egypt transcript
Hiroshi Kawamura spoke about the DAISY in Egypt project being run by the Accessible Technology Development Organization (ATDO), The Japan International Cooperation Agency, Egyptian Government partners and other Business partners to further the development of DAISY and accessible EPUB. Capacity building for multi-media trainers has gone well together with the development of an environment that can support this work. Next steps include: Internationalization of the EPUB Accessibility specification for use in Arabic together, making COVID 19 documentation accessible in Arabic,  and the introduction of school text books with human narration that is synchronized with the full text.
Next steps include exploring the possibility of a twinning program via an International Cooperation, for Egyptian EPUB and DAISY producers with libraries who are looking to outsource to companies for Arabic content. The ABC resource sharing system could be particularly beneficial in this scenario.
Digital Braille Innovations
Digital Braille Innovations transcript
This presentation explored the work of two major braille libraries who are expanding their braille options for readers.
John Brown from the National Library Service for the Blind and Print Disabled in the US (NLS) presented work on the new electronic braille reader that NLS have developed which represents a huge shift in focus for the organization who can now offer electronic braille as a primary means of distribution. This small, compact device has been met with a terrific response from patrons and readers. Plans for the future include introducing compatibility with other formats (specifically EPUB), exploring the possibility of offering magazines to readers which would greatly boost the volume of content available.
Dave Williams and Paul Porter, RNIB, impressed us with the word they have been focusing on during the pandemic which initially forced them to suspend their hard copy braille library service. In response to this challenge, RNIB accelerated the digital transformation work for members, offering them a free electronic braille display together with a memory card holding thousands of titles. The ORBIT display can also be used to access millions of commercial, mainstream books. Alongside this RNIB also brought their hard copy offering via a print on demand braille service, managing the needs of all their readers.
Voice Assistants and DAISY Online
Voice Assistants and DAISY Online transcript
The possibility of being able to leverage the new and exciting voice technology, such as Alexa or Google Assistant, is being explored by Pratsam in Finland in conjunction with DAISY members. Pratsam is a software developer, engaged in the development and delivery of systems for the production, distribution and playback of accessible books and newspapers.  The Pratsam Reader Voice service supports the DAISY 2.02 specification and the DAISY online delivery protocol, enabling organizations to provide end-users with accessible content. Currently available on the Google Assistant platform, it is also being developed for Amazon Alexa. The following video explains how this works and features that are included, together with information on what has been learned along the way.
Sign Language Video in Accessible Digital Content
Sign Language Video in Accessible Digital Content transcript
Georgine Auma presented a technical note on guidance for including sign language videos in accessible digital publishing which was published by UNICEF in 2021. The video includes details of the 8 key accessibility features that should be included within a sign language video. After the production of quality sign language all of the content is packaged using the EPUB format. EPUB meets the required accessibility needs for deaf and hard of hearing users – an example of an accessible EPUB with embedded sign language video was shown. For further information and technical resources watch through to the end of the video!
Leveraging Machine Learning with Page AI
Page AI transcript
Brad Turner presented the Bookshare project, Page AI which focuses on transforming PDF to EPUB. The process of transforming PDF traditionally results in problems with image retention, math is not accessible, and it can be a very slow and costly process. Positive results in the development of Math Detective led the Bookshare team to consider automating the PDF transformation process. The Page AI project breaks down text book pages into segments and has trained the AI to interpret the elements – have a look at the video for a demo of this new technology, showing how this information is synthesized into XHTML files. Significantly faster and cheaper this new technology allows Bookshare to fulfill requests much more efficiently.
Related resources:
DAISY Activities at the Information Sharing Day
Accessible Publishing at the Information Sharing Day