Memories of Garth Conboy – A True Giant in Digital Publishing
By George Kerscher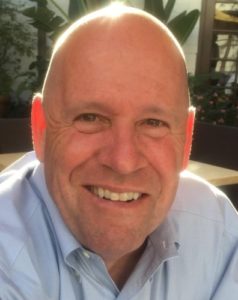 I had the great pleasure of knowing Garth Conboy for more than twenty years. We first met in 1999 when the National Institute of Standards and Technology (NIST) organized meetings to work on a new digital publishing standard. We continued to work on these standards for the next 22 years together, until his passing on June 29, 2021. Garth was integral in every aspect of the Open Ebook Publication Structure (OEB) which evolved into today's EPUB Standard. He co-chaired the development of almost all the specifications at the OEBF, the International Digital Publishing Forum (IDPF), and most recently the W3C, where he was a master at building consensus. I can recall him saying, "Cave early and often."
On the organization side, Garth held a Board seat for many years. Most recently, he was nominated by the IDPF Board as Chairman where I, as President, relied on him enormously to lead the Board activities. He was a driving force, and I knew I could count on him in every aspect of organizational leadership. He never let any of us down.
On the accessibility front, Garth was always committed to ensuring persons with disabilities would be able to benefit from the standards we developed. At his behest, Google joined the DAISY Consortium as a Friend, and always found time for our many questions. Garth's unwavering support for DAISY and our mission was immensely important and we received a Google Impact Challenge grant from the charitable arm of Google. In 2019, Garth organized for Google to host the DAISY Consortium's Board meeting, and leaders in the libraries serving persons with disabilities from all over the world found him to be a gracious host.
Garth had a magical personality that manifested itself in standards working group sessions, in Board meetings, and over dinner with a good bottle of wine. This magical personality wove together friendliness, humor, and rock-solid strategic and technical thinking. This giant of a man will be sorely missed in the digital publishing arena, and in our personal lives. We do have our memories, and he will remain a giant of a friend in my memory forever.