Transparency that Empowers

Creating and delivering accessible content for all users is not a new initiative, but recent global trends have seen a more fervent demand for accessible publications to be the mainstream. Achieving this cannot be the work of one publisher, platform, or consortium, but a combined effort of the whole community. This community has worked hard to create a strong ecosystem that enables the creation, delivery, and verification of accessible content, but what remains to be done?
As with many industries, we also have a "last mile" problem that needs to be solved. All of this great work has been done, but if nobody knows about it, how can it help solve real issues? What's needed is transparency, and VitalSourceⓇ is excited to be leading the way in providing this transparency into the accessibility features that publishers are providing on our platform.
VitalSource has a strong commitment to delivering content that is accessible, and in addition to being a Friend of the DAISY Consortium, sits on the board of the International Digital Publishing Forum (IDPF), creators of the EPUB specification and continues to be actively involved in W3C Publishing. Creating high-quality, accessible content to a consistent standard requires guidelines to support content providers. Industry standards such as the EPUB Accessibility Specifications 1.0, which focus on the discoverability, optimisation, and accessibility of EPUB publications, are one example that content providers have to ensure quality of content. This specification lays out the formal requirements that must be met to produce accessible content, including the use of metadata. Metadata describes and gives information about products, such as title, author, page count, alternative text, and if the font within the eBook is resizable—designed to help users find relevant information and discover resources of use to them. Some accessibility compliance metadata is embedded within the publication using scheme.org and Onix Codelist 196, which allows content providers to include further details of the accessibility compliance of their content in the ONIX product message, the industry standard used to communicate product information. As the content is distributed into multiple channels, this data can be made available so that customers can be aware of the accessibility features pre-purchase.
For the past 18 months, we have been working with all parts of the supply chain to ensure that our partners can deliver content to us that has accessibility features described using the above industry standards, and that we make those features transparently available on our platform. At this time, we rely on the publishers to provide accurate accessibility metadata information in their EPUBs. We do not inspect the content documents to verify the stated metadata against the actual page content because there are so many different levels of what is considered "accessible".
The first two places you will see the new feature transparency appearing is on the product detail pages in our store, including our faculty sampling site and all white-labelled stores that we operate, as well as the catalogue feed that our distribution partners use in their platforms.
This means that for the first time:
Our publishing partners will have a clear ability to indicate the accessibility features and assistive technology support in the product detail pages of their content.
Instructors who are selecting content for adoption will be able to see the accessibility features that a particular text provides to accommodate a variety of learners.
Learners can clearly see if their assigned content will accommodate their accessibility needs from the product detail page before they purchase.
Everyone will be able to see a page of detailed accessibility features that have been enabled within the text, including the level of compatibility with assistive technology and any issues that a reader may come across. Not only is this accessibility transparency a huge time saver for those purchasing eTextbooks, it's also a money saver. Learners no longer need to cross their fingers and hope the eBook will meet their needs—they can check beforehand and purchase with confidence and certainty.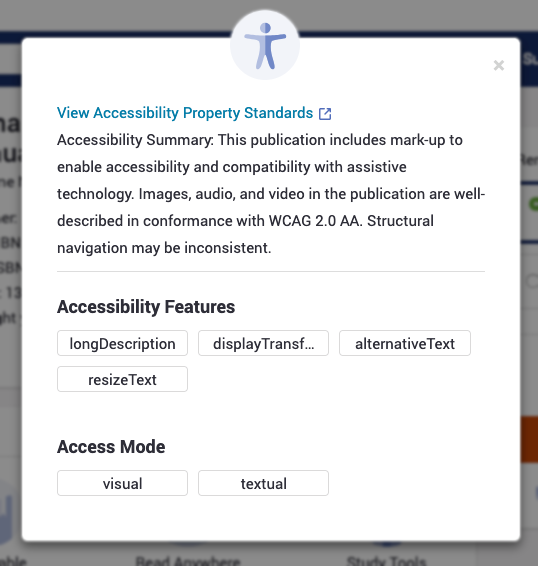 VitalSource works with incredible content providers all around the world who are as equally committed to accessible content as we are. There are currently more than 6,000 titles from over 50 publishing partners already displaying their accessibility features, with more coming in every day. We remain committed to doing everything possible to help all of our users and partners in solving their need for accessible content transparency. While we are excited to announce this capability, we are even more excited about future plans for the expansion to other parts of our platform and the addition of more capabilities (like search) to further empower users.
Learn more about VitalSource accessibility at: https://get.vitalsource.com/accessibility
If you would like to see an example, here is a title from our partner at Pearson: https://www.vitalsource.com/textbooks?term=9780134776750
---
Thanks to Vanessa Boddington of VitalSource for this article highlighting the groundbreaking work they have been doing to ensure information about the accessibility of publications reaches the people who need it.