WordToEPUB Wins ALPSP Award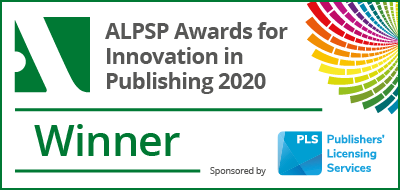 The DAISY Consortium is proud to have been named a winner of the ALPSP Awards for Innovation in Publishing 2020 for our work on WordToEPUB. This ground-breaking new tool offers a free, simple and straightforward method of converting structured Word documents to valid and accessible EPUB files.
The inspiration for the WordToEPUB tool was academic publishing, and in this time of Covid, educational materials are being digitized into accessible files that are a lifeline to students with disabilities unable to study at school. WordToEPUB has revolutionized the conversion process for many users already and this award will only help to improve awareness.
ALPSP were looking for "any new development, product, service or project which is both innovative and of significant value to scholarly communication. The winners must demonstrate excellence in terms of originality, innovation, value to the community, utility and long-term viability."
DAISY were short-listed alongside 7 other very worthwhile initiatives selected from a pool of 34 applicants and we wish to congratulate everyone on their achievement.
WordToPUB is the work of many volunteers around the world, and on behalf of everyone involved we extend our thanks to ALPSP for the recognition this award brings.
Details of the award and all the finalists can be found on the ALPSP Innovation Awards page.