Examining the Accessible Mobile Reading Revolution (W)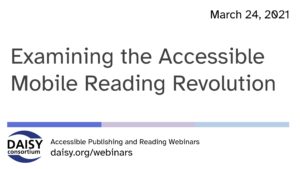 In our series of free weekly webinars March 24th, 2021, saw a session focused on accessible mobile content from a variety of different perspectives. The adoption of mobile reading practices have become increasingly important over the last year and accessibility of this type of content has never been more important.
This page contains:
Full Video of the Webinar
Speakers
Richard Orme, The DAISY Consortium—host and chair
Erin Lucas, RedShelf
Darrin Evans, Wake Tech
Stacy Ray, VitalSource
Robin Spinks, RNIB
Session Overview
This webinar presented us with 4 perspectives
The View From a College
Darrin Evans talked to us about mobile learning from the student's perspective and showed us that learning via mobile content is fast becoming a staple method of content access for today's students. A recent survey showed that 40% of students currently access educational materials via mobile (10% via desktop and 45% via laptop). Mobile is clearly of import in an educational environment and, at this point in the webinar, a poll was launched to get delegates' views on whether "Learners need a laptop to be a serious student".
Colleges need mobile responsive content that is accessible and usable – mobile responsive accessible textbooks and class materials.
Vital Source:  Where Learning is Already Mobile
Stacy Ray told us that currently over 2 million students are already accessing VitalSource content via mobile apps for a number of reasons:
Mobile offers portability and flexibility to study offline which is convenient
This mobile-first generation is used to mobile learning
Mobile usage has been affected by at-home learning
with some learners using mobile as their sole method of accessing content although not all experiences directly translate e.g. PDF doesn't translate as well as EPUB.
Features that Make a Difference to Mobile Accessibility
Table of Contents
Highlight
Search
Read Aloud
Display Controls (background color, fonts etc)
All of these features are in the top 5 features used in mobile applications (as is the case with desktop and laptop browser based learning also)
Building Accessible Apps
Building an accessible app at VitalSource is a shared responsibility company-wide beginning with good design, which doesn't directly replicate the desktop experience. The app is specifically designed and tested for mobile whilst ensuring that consistency is up-held across the variety of experiences on offer. Testing is conducted with users who are primary mobile users, making sure that the experience is intuitive. The whole process is really no harder than building a web-based platform so long as you keep up to date with the latest tools and features that the OS releases.
RedShelf: Our Journey to Mobile Begins
Erin Lucas explained that RedShelf's focus has been traditionally based around browser-based reading experiences and in late 2019 they turned their attention to mobile. This was before the onset of the 2020 pandemic when the need for mobile learning experiences became apparent quickly!
Mobile is Here to Stay
Learning everywhere quickly became the norm in 2020 with feedback from DSOs confirming that WIFI access is often an issue and that mobile is the way forward for many learners. Digital natives are resourceful and by the beginning of the Fall term the app had been installed 12k times and tripled in time for the Spring term, without any promotion or proper launch!
A11y Considerations for Mobile
A11y First is a huge part of everything that RedShelf does and they have learned that an accessible desktop experience doesn't necessarily translate to the mobile experience. Hybrid apps can be more challenging than native apps for instance. Content needs to be accessible and responsive, reinforcing the advantages of the EPUB format.
Measuring Up
Robin Spinks discussed whether accessibility features on mobile are up to the mark, encouraging us all to check out our personal devices after the webinar to find out how to access specific features and become comfortable with enabling the built-in functionality:
Visual Adjustments
Built-in magnifier
Colour inversion
EPUB apps can adjust: font, text size, colors and spacing
Read Aloud
Speak selection / speak screen
Select to speak
EPUB reading apps may have read aloud features or can use the integrated features
Screen Reader
VoiceOver
TalkBack / Voice Assistant / Voice View
Support for text, image descriptions, heading navigation, lists etc
Support in tables is ok
Support for math is limited
In Conclusion: Where is all this Going?
Investment is heading to mobile
Devices and services are getting smarter
Voice control and intelligent assistants are playing a huge role
Merging of desktop and mobile
Finally – the poll results – "Learners need a laptop to be a serious student"…
Strongly Disagree: 8%
Disagree: 33%
Neither Agree or Disagree: 24%
Agree: 31%
Strongly Agree: 4%
Related Resources