Accessible Publishing Lessons from an Ironman
Training for any sporting endeavour takes dedication, commitment—and most of all—motivation. Contrary to popular opinion, I do not roll out of bed in the morning, leap to my feet and run downstairs to the treadmill with a smile on my face yelling, "Woot, woot!"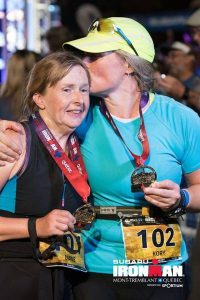 In reality, it's more like dragging myself out of bed and trying to figure out if I want to expend the energy to pry my eyes open (I mean, it isn't like I'm using them). I am 53 years old and totally blind. I am also an Ironman.
You might be asking yourself what my experience of becoming an Ironman has to do with accessible publishing. Well there are more than a few similarities to the journey.
In 2009 I began challenging myself. I began with a skydive and then moved on in 2010 to driving a race car and finally, in 2011, I rappelled down the outside of a 29 storey building. In 2012 I was lost for what I could do next when a classmate from university sent me an article about a blind woman competing in triathlon events.
"Diane, you could do that," said my friend, Cheryl.
Given that I was pretty much a couch potato, 47 and blind, I thought she had lost her mind. But, not one to turn down a challenge, I decided to get fit. Six months later I completed my first Olympic distance triathlon (1500 m swim, 40 km bike, and 10 km run). I crossed the finish line second to last but I crossed it upright and, for me, that was success!
"I bet you could do a half Ironman," said Cheryl (1.9 km swim, 90 km bike ride and 21.1 km run).
I told her that she was crazy and that I didn't want to talk to her for at least a month. She took me to my word and a month later we were signing up for a half iron distance.
Since then I have completed several Olympic distances and four half iron distances. In August of 2015, I attempted my first full Ironman (4km swim, 180km bike, and 42km run, all to be completed within 17 hours).
The day of the race was beautiful and sunny. I felt calm and ready to go the distance. The swim went well, and the first 90 km of the bike phase felt wonderful. The temperature rose to 40 degrees Celsius and I began to feel the heat.
I managed to reach kilometre 21 of the run when heatstroke took over and I decided that my health was more important than the finish line. I was disappointed but knew that I made the right decision. I told the organizers of the race that I would be back in two years to try again.
Two years later there I was standing at the start line of Ironman Mont Tremblant 2017 (in Quebec Province, Canada). I was wondering if maybe I had lost my mind when I lost my sight—I mean what was I thinking! None the less, the gun went off and the fireworks exploded. Before I knew it, there I was running across the beach and diving into the water for just one more shot at becoming an Ironman.
The day was beautiful, and my guide Kory and I felt wonderful. It was a long, but fun filled day and when we crossed the finish line I was exhausted and exhilarated all at the same time.
In some ways I still can't believe that I managed this monumental achievement, but it has definitely taught me that anything is possible.
For those new to the topic, adopting accessible publishing can also seem quite daunting, for large, mainstream publishers as well as smaller concerns where a change to established business practices and adaptations to existing workflows can be necessary. In discussion with publishers around the world DAISY Members have heard feedback that what initially appears to be a path strewn with many barriers, over time becomes an organizational benefit with overwhelming positives.
It is somewhat rare that we perfect something of significance on the first attempt, and the same is true with inclusive publishing. Many have said that accessibility is a journey and not a destination, so we might reasonably expect a few bumps along the way. But, if we learn from those experiences and adjust our processes accordingly, it could still be considered a success. A small step in the right direction will still have an impact so it's important not to give up and to keep motivated and focused.
So like athletic challenges, what may appear difficult at the start, can, with training, dedication and commitment be achievable. An increasing number of publishers are working towards this fantastic achievement every year.
---
Thanks to Diane Bergeron, a Vice-President at CNIB and member of the DAISY Consortium Board for contributing this article.