Announcing The Microsoft Supported Low-Cost Assistive Technology Project
Creating Accessible Books for Diverse and Affordable Reading Devices
At DAISY we have a long history of working with the world's leading technology companies to deliver amazing solutions for people with print disabilities.  We're delighted to announce our latest project which is made possible thanks to the Microsoft AI for Accessibility program.
In 2004 a global summit organized by Microsoft and DAISY began the journey towards the global sharing of accessible publications for people with print disabilities. A lot of progress has been achieved since then, but the benefits have not reached most people in lower-income countries. This project will unlock accessible reading for people who currently do not have access.
As a result of the Marrakesh Treaty more than a million books have become available under international exchange through global collaborations. These books are in file formats that deliver a first-class accessible reading experience on smart phones, computers, or dedicated hardware players. However, these playback devices often don't reach people in low resource parts of the developing countries. Many rural areas do not have adequate electricity or internet connectivity.
In this project DAISY will be developing an easy-to-use application to convert books so they can be used by the devices typically in the hands of persons with disabilities in low resourced parts of the world. This includes basic phones, affordable braille displays, and even solar-powered audio players.
The solution will make it much easier for disability organizations, libraries, and schools to create or convert books for the devices typically used in their environments. We think of this tool like a Swiss-army knife, a small and very easy to use tool which offers multiple solutions, taking content from an array of formats and converting it automatically to various accessible formats.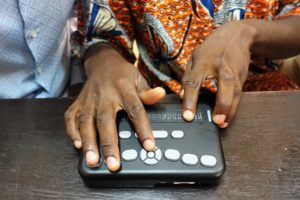 Through this transformative project many people with print disabilities will be able to study at school, prepare for employment, and gain access to health and emergency information using the reading devices that are popular in their communities.
Thanks to support from Microsoft, this innovative converter tool will be made freely available to all, helping to deliver accessible reading materials in the formats needed to people all around the world.
There are many aspects to this project which we will be sharing in greater depth over the coming months. To keep up with the latest developments from this project, along with other activities from DAISY and our member organizations, subscribe to the DAISY Planet Newsletter.