Exploring Reading App Accessibility (W)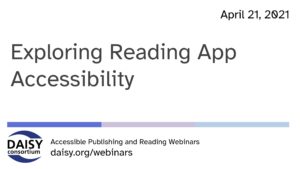 Our webinar on April 21, 2021, was focused on the accessibility of reading apps from a variety of different perspectives, with tips and demonstrations to show our audience the practicalities of various systems.
This page contains:
Full Video of the Webinar
Speakers
Richard Orme, DAISY Consortium—host and chair
Daniella Levy-Pinto, NNELS
Robin Spinks, RNIB
Melissa Castilloux, tester at NNELS
George Kerscher, DAISY Consortium
Session Overview
George Kerscher gave us a brief resume of the session highlighting the need for apps to support access by eyes, ears and fingers depending on the perceptual requirements of readers and the type of reading they are engaged in (leisure, academic etc).
Reading Requirements
For Everyone
Some features benefit all readers and these include:
Remembering where you left off when the book is reopened
A Navigable Table of Contents
Access to the real full text (for text-to-speech, font customization and scaling) rather than it just being an image
Go To Page feature
Easy navigation throughout
For Readers who are Blind
Daniella Levy-Pinto which features are also important for readers who are blind who user use a variety of apps depending on the type of content they are accessing and in which format. A continuous reading experience is helpful when reading for pleasure but a more academic environment may require additional flexibility for moving around within the content. In particular, these features are a requirement for blind readers:
Read Out Loud that includes a pause button to retain the current position
Review Text – the app should work with screen readers that read out the text and other elements
Heading Navigation – the app should list headings and allow them to be selected
Read Image Descriptions should be read automatically
Movement within Tables
Navigation using links and page references
For Readers who have Low Vision
Robin Spinks highlighted important reading requirements for readers with low vision for whom there are many challenges such as being able to focus on the text, glare from text, visual fatigue and a sensitivity to movement. Readers with low vision may want:
To be able to adjust the font size and weight
Having a good choice of fonts
Color and contrast modifications
Line spacing adjustments
Read aloud option
For Readers who have Dyslexia
Melissa Castilloux talked to us about the needs of dyslexic readers and explained that for these users, learning to automate reading is indeed a skill and the constant demand to de-code content results in reduced time actually interacting with the text as was intended. Features that are helpful in this situation include:
Different levels of navigation
All buttons and links should be correctly labelled
Read aloud feature can ease the need to constantly de-code text
Ability to change column widths and line spacing aids concentration
Colour and contrast modification impact the reading experience for dyslexic readers
Melissa gave a brief demo of the Microsoft Word Immersive Reader function which offers an incredibly flexible reading experience.
George impressed upon us that there are many reading apps and that being able to tell readers about what features are available, is crucial. Testing of these apps is difficult when you consider the number of combinations of operating systems, reading apps, assistive technologies and formats but it is important that we impart this information to readers.
The User Experience
The Blind User Experience
Daniella explained that a good UX for blind readers is one where are the included features are accessible. Barriers to this include:
Buttons and links which are not properly labelled result in difficulties performing basic functions with a screen reader
Apps that are cluttered, with no headings to separate sections make it difficult for the reader to orient themselves within the app
Apps that do not include useful keyboard controls or the ability to use a common swipe gesture hinder interaction
The Low Vision User Experience
Robin urged us to think about how a book might be able to be customized for the reader allowing:
Bigger text together with reflow options
Ability to switch color theme
Ability to increase line spacing
Ability to change the font
Read Aloud
The User Experience for People with Learning Difficulties
Melissa explained that all features within a reading app should offer full flexibility to the reader in terms of accessibility. Her demo of the app "BookReader" showed a great example of flexibility although all reading apps do have some limitations and in this case it was the read aloud feature that could do with some improvement.
Testing Reading Apps
The formalised process of testing reading apps benefits many of us including developers, schools, libraries and anyone who enjoys the additional benefits of reading digital content. Both DAISY and NNELS offer testing and reporting via epubtest.org and accessiblepublishing.ca. Through a process of testing and feedback, the whole publishing and reading ecosystem benefits and steadily improves.
Related Resources