Returning to In-Person Training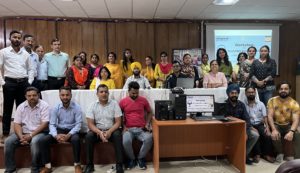 At DAISY we are regularly approached by institutions working for people with print disabilities to request training in the production of accessible books, document conversion, and accessible ebook creation.
For the past two years, training has been delivered online, through dedicated online courses, self-study materials, and trainer-led sessions delivered over video calls.
Last month we conducted our first onsite training since the onset of Covid conducted at Dehradun, India for the National Institute for Empowerment of Persons with Visual Disabilities, the apex institution established by the Government of India for the rehabilitation of people with visual impairments. This institution first adopted the DAISY format in 2010 and got in touch again because they are now interested in creating books in the EPUB format.
The staff of the National Braille Library, National Large Print Books Library, and the National Talking Book Library of India participated in this training program delivered by Prashant Ranjan Verma, where they learned to create accessible Word documents and the steps to convert to EPUB, large print, DAISY format, and braille. Refresher sessions were separately conducted for the National Talking Book Library team which is using Dolphin Publisher and Obi to create high-quality human narrated audio books.
This training was part of this institution's work to adopt a "single source – multiple formats" workflow, where a master copy of the book will be created in Microsoft Word format and converted to different formats as and when requested by members with print disabilities.
---
If your organization is interested in training on the latest techniques for accessible format and inclusive publishing practices please contact us to discuss how we can assist you with your requirements.