The Impact of Low Cost Assistive Technology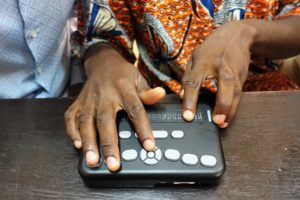 As we approach the conclusion of our Low-Cost Assistive Technology Project we have been able to reflect on the impact of our work and share lessons with the wider community.
Last year we asked for feedback on languages that did not have effective braille support. The response highlighted many languages in use around the world which are not supported, from which we were able to identify two Swahili and Chichewa to take forward in this project. Working with language braille experts the braille tables were created and integrated into the open-source braille translation tool which provides the foundation for many specialist and mainstream devices. Earlier this year the latest version of Liblouis was released with support for Swahili and Chichewa.
A further part of this project examined the availability of accessible books in low-resource regions, providing 50 low-cost devices to gain an understanding of the potential for this approach. As part of the trials, Mega Voice solar-powered players have been provided to students aged 14 to 16. These players are delivered pre-loaded with the complete set of textbooks for the grades they are studying. The players are specifically being given in the low-resource regions within low and lower-middle-income countries.
Through a base-line survey conducted at the time of handing over of the players to the students we discovered some interesting things, one of the key findings coming out of this survey was that at the age of 14-15 years, this is the first time that these students have access to the books that they can read for themselves. Before participating in the study, teachers delivering lectures in the classroom and someone reading a book out to them were the only ways for the students to gain access to any of the content of their syllabus.
Through this Microsoft-supported project, we have identified clear evidence that broadening support for playback tools directly and dramatically changes the educational potential for those concerned, providing access to books for people who did not previously have any meaningful access.
The outcomes of this project along with practical advice and information about new tools will be featured in a free webinar on March 29th at 14 UTC.