New Options for Accessible Books for Readers in Low Resource Areas (W)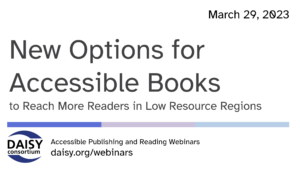 In our series of free weekly webinars March 29th saw a session focused on New Options for Accessible Books for Readers in Low Resource Areas. Most of the world's people with blindess or low vision live in low- and middle-income countries where resources are scarce and accessible books aren't commonly available. This webinar will study the work of The DAISY Consortium and others examining how this new focus has significantly changed the situation already.
This page contains:
Full Video of the Webinar
Speakers
Nafisa Baboo, Light for the World—host and chair
Richard Orme, The DAISY Consortium
Dipendra Manocha, The DAISY Consortium
Ioana Tanase, Microsoft
Masho Kidanemariam, SENEthiopia
Ashoka Bandula, DAISY Lanka Foundation
Session Overview
Richard Orme provided an overview of the webinar whetting our appetites for the exciting solutions and resources that will be discussed!
Challenges
Dipendra Manocha described some of the very real and tough challenges experienced in developing countries, in particular the story of a 13 year old boy he met at a resource centre, 200 km from Delhi. Never having had access to accessible books, the main mode of learning for him was listening to his teachers with no direct access to reference books.
The Global Smartphone Divide: highlighting around 75% of people in developed countries own a smartphone, whereas 75% in developing countries do not have smartphones.
Technology Gaps: the least developed countries face additional technology inadequacies in addition to resource issues.
Opportunities
Tools to make accessible books: these are becoming easier and cheaper to use and include the audio tool, Obi and Microsoft word based methods to help create digital accessible content.
Help with training and technical support. These efforts include:

ABC capacity building project, helping to raise awareness about what can be achieved and to provide opportunities to learn
Partnering with NGOs for training has meant that there is now a large of body of materials which can be delivered both faster and cheaper
Webinars and online learning
Global sharing of existing accessible books. Thanks to the Marrakesh Treaty there is now a legal framework for the exchange of accessible books internationally. The opportunity to get books into the hands of readers with print disabilities, is now greater than ever.
A wide choice of more affordable reading devices with greater language support include:

DAISY format players and braille devices
Apps for laptops, tablets and smartphones
More affordable audio players
Solutions
With so many opportunities now available Richard and Dipendra considered some practical options to get accessible books into the hands of people with print disabilities. With the support of some large organizations, work has started in earnest here. Ioana Tanse and Dipendra spoke to us about the work that Microsoft and DAISY have focused on – improving access to low-cost assistive technology to people in developing countries
Extending digital braille: by adding support for Swahili and Chichewa (the language of Malawi), digital braille is now available to many many more readers
Opening the treasure trove; the development of an app to convert books in existing resources has allowed greater access by bringing the "power of the DAISY pipeline" to the desktop. Masho Kidanemariam talked to us about using the app in conjunction with the solar audio player, MegaVoice in a war zone region of Ethiopia. Ashoka Bandula described how this project has helped to provide access to textbooks for students in some of Sri Lanka's most challenging regions.
Realizing the opportunities. In summary, Richard Orme urged us all to:
Use the free tools to create accessible books
Participate in international sharing of information
Convert books to reach more people
Get training and support from DAISY
Finally, Dipendra reminded us all that for many participants in this project, this was their first experience reading an accessible book and that this is life-changing work.
Related Resources
Tools mentioned:
Other links: