Music Braille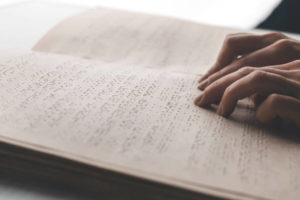 Goal
Our goal is to ensure that more music braille scores are available more easily to more blind musicians world-wide.
This project is a cross-sector collaboration to identify, prioritise, and deliver both short-term and long-term improvements to secure the future of music braille production and use.
Background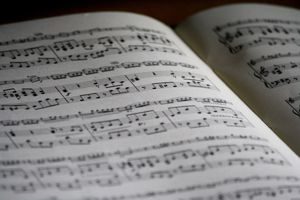 Libraries for the blind and other agencies wish to secure the future of music braille production for blind musicians who rely on it for study, pleasure or professional purposes, but these organisations face increasing limitations regarding budget and expertise.
This project wants to secure the future of embossed (paper) music braille in particular, but also delivers benefits for those using digital music braille on braille displays. Paper music braille will be vital for many musicians for years to come, and we wish to protect this service in a cost-effective way, as well as improving file conversions, file format standards, and opportunities for international file-sharing.
Phase 1: The Development Phase (complete)
In October 2017 the Norwegian Library of Talking Books and Braille (NLB) asked for interested parties to join a collaboration to find a solution/solutions; as we recognise that together we can achieve more than we can individually. We now have around 150 participants worldwide involved in some way with the project. Anyone interested is welcome to join us.
Our Focus
We identified four areas across the sector requiring improvement if we wished to increase the amount of music braille produced and used, and our activities have address all four of these ambitions.
Input files need to be as good as they can be at the start
Conversion and mark-up tools need to be accurate & reliable, for agencies and end-users
Good access is needed to existing intermediary files
Good teaching, learning and promotional materials are needed.
Latest presentations
Project outcomes at June 2023
As outlined in our video presentations, we concentrated on making strategic improvements for both short- and long-term benefits for the music braille sector. Project activities and outcomes from this first phase of the project include:
Funders
We are grateful to the following agencies for supporting the project with financial contributions:
AVH, France
CNIB, Canada
DAISY Strategic Development Fund
Friends of dzb lesen, Germany
MTM, Sweden
NLB, Norway
Norwegian Association of the Blind, Norway
Nota, Denmark
ONCE, Spain
RNIB, UK
SBS, Switzerland
Vision Australia, Australia
Phase 2: Implementation Phase (from September 2023)
The second phase of the DAISY Music Braille Project will run from September 2023 for 18-months. We will be focussing on helping agencies and end-users to take up the resources and tools developed in the Development Phase of the project, as well as some new activities which further improve the future of music braille production and use.
Planned activities
Helping agencies and end-users to find out about and learn the new tools and resources and embedding them into their working practice.
Widening the membership of the Music Braille Production Network; supporting the transition to the newly agreed annual chairs (Vision Australia, SBS, dzb lesen, and NLS); and getting our agreed metadata and guidance for international productions and file-sharing via the network and ABC Global Book Service into business-as-usual.
Promoting the 'born accessible' and 'inclusive publishing' agenda with mainstream music publishers and supporting engravers to take up our music-setting guidance.
Contributing to the documentation being prepared for braille manuals by proposing missing guidance and missing country rules.
Collating, supporting and promoting practical teaching methodologies for music braille.
Maintaining this global stakeholder dialogue.
We hope that many of you will continue to engage with these activities and we can maintain the momentum and collaborations we have enjoyed in recent years – watch out for invitations to join specific working groups, or questions which you might be able to help answer.
Key people
Arne Kyrkjebø: Project Lead. Director of Development, Norwegian Library of Talking Books and Braille, Norway.
Dr. Sarah Morley Wilkins: Project Manager and User Experience Consultant, UK.
Mr Haipeng Hu: Music Braille Technical Consultant, BrailleOrch, China.
Steering Group
The project team is supported by expert Steering Group members. All members of the DAISY Consortium, they come from worldwide agencies representing the needs of blind people, teachers and transcription services, currently:
 Juliette Appold, Head of Music Section, National Library Service, LOC, USA.
Carmen Bayarri Torrecillas, Director Bibliographic Service, ONCE, Spain.
Lia Cariboni, Team Leader Braille Music Production, SBS, Switzerland.
Roger Firman, Chief Executive Golden Chord, & Chair of the UK Association for Accessible Formats, and Music Subject Area, UK.
Avneesh Singh, Chief Operating Officer – Strategy & Operations, DAISY, India.
Tor Sivert Gunnes, Advisor Braille Music Notation, Statped, Norway.
and previously: Roger Beatty, Director Accessible Publishing, CNIB, Canada.
and previously: Nick Bowen, Bookshare Product Manager, Benetech, USA.
Join us
We have a project circulation list of over 150 worldwide music braille specialists – end users, individual and agency transcribers, music teachers, developers, service heads, musicologists and more. We'd love to hear from you if you'd like to join the circulation list and/or be an active participant in this project – please email us to join: musicbraille [at] daisy [dot] org
Latest News
All the progress updates, announcements and consultations are available on our latest developments page.