Describing Images in Publications—Guidance, Best Practices and the Promise of Technology (W)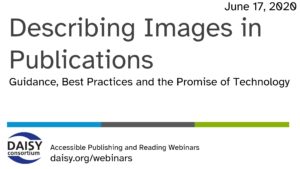 In our series of free weekly webinars June 17th saw a session focused on the process of authoring quality image descriptions which are essential for accessibility.
This page contains:
Full Video of the Webinar
Speakers
Richard Orme, The DAISY Consortium—host and chair
Valerie Morrison—Center for Inclusive Design & Innovation, Georgia Institute of Technology
Charles La Pierre—Benetech
Gregorio Pellegrino—The LIA Foundation
Session Overview
Practical Tips and Advice for Writing Image Descriptions
Valerie Morrison gave us the benefit of her expertise to open this webinar giving our audience a list of best practice tips which can be applied to all image descriptions. These included:
Summarize what you see to begin with in one general and informative sentence
Keep your description neutral and informative
Use proper grammar, spelling and punctuation. Avoid hard line breaks.
Avoid acronyms and symbols (remember a screen reader will be reading everything you include)
Work from general to specific to provide a framework for the listener
Think about providing information in multiple modalities to vary the experience
Make sure that the surrounding text does not already describe the image. Avoid overlap
Knowing how long a description should be and when to stop is also important and Valerie recommends keeping to approx 125 characters. It can be hard to restrict the length of a description but screen reader software has limits. If an image is simply a photograph of a person, for example, it may be that the name of that person will suffice (depending on the context). Simple graphics can usually be described in one sentence and, whilst this can be challenging, this makes it easier for the listener—you don't want to overload them.
Valerie's slides give lots of examples of all of these useful notes with guidance given on describing symbols, charts and graphs.
Resources
Charles La Pierre presented the work of the DIAGRAM Center and the various resources that it offers the publishing industry. The POET tool is an image description training tool which focuses on:
When to describe images—is the information contained within the image essential to understanding?
How to describe images
Practice describing images
The Diagrammar resource is a framework for making images and graphics accessible. This data model provides a structured, standard way for image description data to be modeled.
Using AI to Automate Image Description
Gregorio Pellegrino presented the recent Italian project testing AI tools within the publishing industry with the goal of producing born accessible content. Results from this project revealed that:
some tools are better than others at identifying certain types of images
while the image category can be identified, more work is required before image descriptions are reliably produced
Depending on how images are classified, depends on which tool should be used and the next phase of this project will look to define an all-embracing taxonomy for image classification. This will enable the creation of datasets for training.
Publisher Approaches
Richard Orme presented comments and thoughts from 4 publishers who kindly agreed to participate in this webinar. See the slides for their full thoughts and comments
Kogan Page
Current Practice—descriptions are outsourced to vendors as it was decided not to proceed with author descriptions. These vendors provide alt text and extended descriptions.
Advice—Develop guidelines for your vendors with a small library of examples. Make sure you control costs and spot check descriptions when submitted by vendors.
Macmillan Learning
Current Practice—image descriptions are produced by a number of sources: the author, outsourced alongside ebook creation, description specialists or in-house
Advice—Descriptions are content so the same rules apply, be careful with the length of your descriptions
John Wiley & Sons
Current Practice—Alt text is written by subject matter experts which goes through a QA process. In-house training is provided to ensure understanding of descriptions are used with AT.
Advice—Become familiar with different image concepts, the various types of descriptions and when to apply them. Remember that alt text is there to describe, not teach.
W.W. Norton
Current Practice—image descriptions are outsourced to specialists towards the end of production. All descriptions are checked in-house for which there is extensive training provided
Related Resources