Lessons Learned in the Journey to Accessible Publishing (W)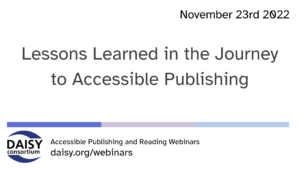 In our series of free weekly webinars November 23rd saw a session focused on the lessons that have been learned by speakers from 4 different areas of the publishing industry. This was the perfect way to round off this current season of webinars and an excellent chance to reflect on some of the challenges that have been encountered
This page contains:
Full Video of the Webinar
Speakers
Richard Orme, DAISY Consortium—host and chair
Anne Bergman, Federation of European Publishers
Cristina Mussinelli, The LIA Foundation
Simon Mellins, Penguin Random-House
Wendy Reid, Kobo Rakuten
Session Overview
Ann Bergman was our first speaker, reminding us about the work of the FEP during the development, planning and eventual implementation of the European Accessibility Act. This has involved years of preparation for our industry and is the result of over 20 years of engagement at EU level. The EAA, which comes into force in 2025 will have a global impact as it covers ebooks, ereaders and eretailers. The good news is that EPUB has been deemed to fulfill the specifications of the directive, but there are challenges that still remain: backlist concerns, the liability of retailers and DRM, to name but a few! Ann's advice to everyone thinking about accessible publishing was an important lesson:
Accessibility is about making the books we publish better, satisfying the needs of all customers and broadening readership
Cristina Mussinelli and the LIA Foundation have a wealth of advice learned from years of advocating for accessible publishing in Italy and Europe. Lessons include:
Collaborations – building bridges with all the stakeholders in the industry is key
Accessibility needs to be treated as a strategic resource and the corporate culture should reflect this
Implement a roadmap within your organization
Training is absolutely key as accessibility can get quite technical
Simon Mellins gave us a snapshot of lessons learned from a larger publishing organization of which the 2 biggest are:
Metadata and the challenge of implementing accessibility metadata for such a large volume of content and the backlist remains a huge challenge. PRH have found that metadata templating is practical for trade titles but the challenge remains to get the retailers support display.
Image description remains the hardest accessibility challenge for most publishers and there is no one solution that works for everyone. Simon gave us a number of strategies to cope with the challenges and these slides are full of helpful detail on this
Finally a reminder about future-proofing and how accessibility enhances content for everyone's enjoyment.
A properly structured EPUB file with detailed semantic tagging and metadata is the best way to archive books for future generations.
Wendy Reid gave us the retailers perspective by highlighting lessons learned at Kobo Rakuten.
Communications are key to success, working with publishers on accessibility requirements
Implementation of accessibility can be complex in retail
User needs and perspectives must be taken into consideration at every stage. Testing early and testing often can result in changes of approach, making sure that readers with print disabilities are included in the feedback process.
Listen to the recording to hear more about the challenges and lessons learned discussed by our 4 experts.
Related Resources
Useful Links