New DAISY Consortium President and Treasurer
As defined in the DAISY Consortium Articles of Association, the roles of DAISY President and Treasurer are elected by DAISY Board members every 4 years. The recent DAISY Board Meeting in Geneva marked the time to elect a new President after Jesper Klein has generously served in the role since 2015. Following the election process conducted by Board Members, Maarten Verboom from Dedicon in the Netherlands was elected the new President and Chair of the Board. Because Maarten would be vacating the role of DAISY Treasurer, elections for a new Treasurer also took place in Geneva with Michael Katzmann from the Library of Congress in the United States was elected as Treasurer. Both Maarten and Michael started their new roles at the beginning of July 2019.
Jesper Klein shared the following message:
It has been a true joy to see this organization succeed the way it has in achieving its goals and reaching substantially closer to realizing its vision that people have equal access to information and knowledge regardless of disability. The purpose of the DAISY Consortium represents something fundamentally good and is also easily translated and communicated – which attracts great people. With such wonderful people in the leadership and in the organization as a whole, my four years as president of the DAISY Consortium have with very few exceptions been easy, joyful and a superb learning experience. Accessible reading has gone through such an exciting journey the last decade, and is a wonderful case of digital transformation of a whole industry – happening right now, on global level!

Maarten Verboom, it is with great trust that I will hand over Presidency to you. With your long experience in governance and management, with such a great knowledge and network in the field of accessible reading – I'm certain you'll take it to the next level.

Thank you, and keep the faith in the best way to read and publish!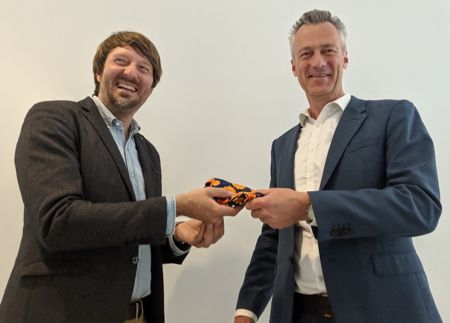 Maarten Verboom has extensive experience when it comes to accessibility of information. In his role as managing director of Dedicon, the leading organization in The Netherlands in developing and producing solutions for accessible information, he has been responsible for providing accessible books, newspapers, magazines and images since 2006. Under his supervision innovations have been developed such as 'karaoke books' for children who experience difficulties in reading and the possibility of supplying special digital files of educational books for dyslexic learners. But also the development of apps that make the reading of talking books easier. In recent years Dedicon has been working closely together with educational and general publishers in The Netherlands to make accessible publishing possible.
Maarten has expressed his gratitude to the members of the DAISY Consortium who have chosen him as the next president of the Consortium.  With his presidency Verboom plans to take further steps in making information accessible worldwide.
Maarten Verboom shared the following message in a recent Dedicon press release:
Currently, information is often made accessible after the fact in audio, braille, large print, tactile or as DRM protected files. The real solution to create an inclusive society is to publish born accessible books and magazines in which text and images can be read by everyone. This not only requires publishers to adjust their production workflow, but certainly also a change in awareness, knowledge and attitude of government agencies, companies and institutions. Solutions for this are being developed by the members of the DAISY Consortium.

The use of the EPUB3 standard plays a major role in this. The DAISY Consortium has made a very important contribution to this standard. EPUB3 makes it possible to produce publications that are easy to read for everyone, including people with a reading impairment. Creating awareness, implementing accessible standards and supporting publishers worldwide are main themes I want to focus on together with all members of the DAISY Consortium in the forthcoming years.
Thank you once again to Jesper Klein for your incredibly valuable contribution over the last 4 years, and a very warm welcome to Maarten Verboom and Michael Katzmann in their new roles.