New Zealand's Journey Towards Born Accessible Publishing
Written by Geraldine Lewis, Library and Studios Manager, Blind Foundation, New Zealand. Thanks to Tom Smith and Joshua Nathan, Blind Foundation, for contributing to this article.
Introduction
For the past 12 months in New Zealand, a core group of 'Born Accessible' key leads have been working towards the goal of improving access to e-books for people with a print disability so they can more easily participate in reading, both for pleasure and in formal education. Key leads come from Blind Foundation, Blind Citizens NZ, and Auckland Libraries with support from Blind and Low Vision Education Network NZ, Publishers Association NZ and Copyright New Zealand.
We are undertaking a two-pronged approach of:
Working with publishers towards the goal that all material should be produced in a 'born accessible' format, which is currently EPUB3 (supply side). In order to persuade publishers to take action on the right to read, we need to show them firstly that this makes a real difference to people, but also to work with them to ensure that this benefits them.
Many New Zealand publishers are small businesses and any changes to the publishing ecosystem can potentially affect their revenue. It is important that in this campaign, they are not going to be financially impacted; otherwise, this campaign is never going to progress.
Engaging with Government towards the goal of introducing accessibility standards and requirements that all published educational content be provided in a 'born accessible format', currently EPUB3, and ensure that all devices are EPUB3 compatible, to promote accessible and inclusive education for all (demand side).
Publishers Workshop
On 26 June, we held a Publishers Workshop in Auckland to introduce and outline our campaign to them. There were over 20 attendees, mainly from the publishing industry but also a few authors. As well as this a few more attendees joined remotely over Zoom video conferencing from other parts of the country.
We had five speakers:
Geraldine Lewis, Library and Studios Manager at the Blind Foundation
I spoke about the worldwide picture; outlining the work other countries are doing in this area. In particular, I outlined:
In both Europe and USA there are now legal requirements to produce published content in Born Accessible formats and that in USA there has been a series of court cases taken against education establishments for not providing these formats.
In May, the Australian Publishers Association launched two publications 'Making Content Accessible' and 'Inclusive Publishing in Australia' as part of the Australian publishing initiative.
The many international organisations already working with EPUB3.
New Zealand's commitment to the UN Convention on the rights of persons with disabilities.
The work we have been doing with New Zealand Government to date.
We recently had a meeting with Hon Tracey Martin: Minister for Children and Associate Minister of Education, and with Hon Minister Sepuloni: Minister for Disabilities.
I outlined exactly what we are asking for from Government. We have asked Minister Martin to make all New Zealand digital content available to children in schools in a 'Born Accessible' format, namely EPUB3. We also requested that devices required by these students to read digital files such as braille readers, support this content.
Lastly, I highlighted the work of the DAISY Consortium in this area.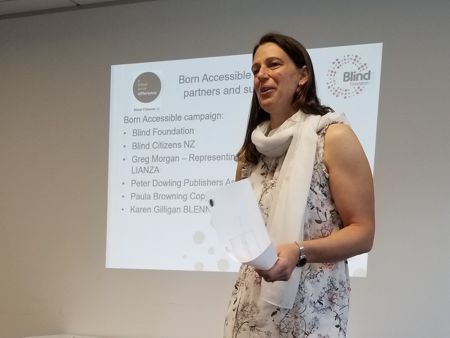 Tom Smith, Client Training and Engagement Advisor, Blind Foundation
Tom's presentation covered an introduction to creating an accessible EPUB3 file using Adobe InDesign. In the session, he covered fonts, images, layout, tables and headings.
While some subjects are relevant to any publishing or document creation software, Adobe have included some unique accessibility features in InDesign. For example, using image XMP data for alternate text, creating an automated table of contents and export tagging paragraph styles.
To finish off, Tom demonstrated the Ace by DAISY accessibility checking tool as a plugin for Sigil, to show its effectiveness in helping fix accessibility issues with EPUB files.
He said it was extremely important to reassure publishers that this was the start of a conversation that incorporates them.
Joshua Nathan, Audio Post-production Technician, Blind Foundation
The purpose of Joshua's presentation was to provide publishers and the Publishers Association NZ with an end user perspective as to why receiving EPUB3 formatted material would be beneficial to people with print disabilities.
Accessible EPUB3 publications enable users to access the content in a timely fashion, and in the method they need (with eyes, ears or fingers). The additional functionality associated with an EPUB3 title would also be welcomed in most academic circles.
Educational content would benefit most from EPUB3 as it facilitates a more user-focused experience.
Content that is heavily technical (such as graphs, schematics, diagrams and technical documentation) would be readily accessible which is important for academic pursuit in technical fields. The content would also be more engaging for users with print disabilities, as they would not have to go to extra lengths to access the material.
Such persons currently have to use unconventional methods, as they may need the information right 'there and then'.
To finish off, Joshua emphasized that he thought EPUB3 Audio will see little change unless a universal standard is decided upon regarding audio file format.
Speakers from the publishing industry
We then heard from three speakers from the Publishing and Design Industry. When I was organising this meeting with the Publishers Association NZ and Copyright NZ, they had requested this as publishers would want to hear from members of their industry currently working with EPUB.
The three speakers from the publishing and design industry were:
Craig Wilson, Chief Technology Officer, Booktrack. Craig gave an overview of how EPUB3 is working for publishers internationally.
Kevin Chapman, Publisher, Upstart Press. Kevin produces his content in EPUB3.
Craig Violich, Designer, CVD Ltd who contracts to Upstart Press.
Craig, Kevin and Craig discussed issues and benefits of EPUB3 production.
A major concern raised was the fear that sending out digital files will increase illegal copying of their work, especially at a time when changes to the NZ Copyright Act are currently before Parliament. They are worried that the latter will make it easier for unauthorised users to copy their work and ultimately reduce publisher's revenue. The other point of concern was that it would be difficult to protect these documents once they were out in the public domain.
Recently at the Select Committee reading of the amendment to the NZ Copyright Act, the 'commercial availability' test was removed. Kevin Chapman said that the removal of commercial availability along with the massive increase of uncontrolled authorised entities able to convert books looked like making it worse for publishers.  He said commercial availability alone would not be as much of a concern if just the Blind Foundation was the organisation they were dealing with.
It was acknowledged by all that, the worldwide publishing climate is heading towards inclusive publishing and that if publishers want to be involved in the international market then it is highly beneficial for them to adopt inclusive publishing practices.
Discussion
The final part of the workshop was a discussion from the floor. The issues raised by the Craig Wilson, Craig Violich and Kevin Chapman above were reiterated by the attendees.
In addition, publishers spoke about the technical difficulty of creating EPUB3 files.
Tom and Geraldine responded saying:
For this to work, we need Government support. If Government agreed that schools acquired accessible digital publications directly from publishers or authorised entities in the first instance then publishers would be paid to create this work. This would also mean schools would have 'born accessible' material from the start, eliminating the need for it to be made accessible later.
'Born accessible' publishing is actually a solution to their concern of mass illegal copying of their publications, because if it were created in this format from the beginning then there is no need to copy it to make it accessible and the Blind Foundation is there to work with New Zealand publishers in the creation of EPUB3.
We agreed to start a monthly newsletter that would go out to publishers updating them on work that is underway both here and internationally in this area.
The Publishers Association NZ reiterated their support for born accessible publishing. They said they would like a similar workshop to be held in another main centre in the near future.
Conclusion
We still have a long way to go in this campaign. We have to not only get the relevant MP's support but also concrete plans in place for how to make this a reality in schools and educational establishments.
We also have to support publishers in their journeys to creating their material in accessible formats.
However, it was positive to see that despite the issues and concerns raised there was a willingness on behalf of publishers to get behind this campaign. It was heartening to see that there is the desire to change for the greater good and to have their support, because without it this change will not happen.
Creating a framework to ensure born accessible publications are available for the people who need them throughout New Zealand will take time, but having taken the first steps in this journey we are optimistic that our goal is achievable and will ultimately prove to be beneficial to everyone involved.