Scaling Inclusion in the Transition to Remote Learning (W)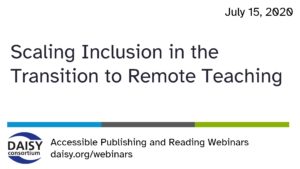 In our series of free weekly webinars July 15th saw a session exploring how the rapid adoption of remote learning can benefit accessible resource creation, universal learning and inclusive design, finding a positive from the challenges many have faced in 2020.
This page contains:
Full Video of the Webinar
Speakers
Richard Orme, The DAISY Consortium—host and chair
Nicolaas Matthijs, Blackboard
Christopher Phillips, Utah State University
John Scott, Blackboard
Session Overview
Nicolaas Matthijs opened this session explaining that this webinar would focus on 3 main topics or lenses through which to explore approached to accessibility within the higher education arena.
Exploring Learning Theories and Tools to Support Diverse Learner Success
One File Doesn't Fit All
The need for flexible materials has never been more important in order to:
Work with all types of assistive technology
To support low income students and mobile users who may only have access to low bandwidth
To support learning from home where schedules are busy and access requirements different
The Blackboard Accessibility tool makes digital course material more accessible by integrating with the LMS and reporting back to educators on the success of their content preparation for students with these requirements.
John Scott then reminded us of the importance of alternative formats which empower students with choice and give them multiple modes of representation to enhance cognitive processes. Ultimately, improved usability impacts the time spent on task and information retention.
Christopher Philiips discussed the impact of alternative formats at USU demonstrating how the LMS provides value for all learners when every file is integrated for every course and students have access in whichever environment works for them
How to Scale Professional Development to Impact Inclusive Course Design
Training educators is a crucial element of this journey many of whom have a limited awareness about digital accessibility, not helped by busy schedules and multiple responsibilities. The blackboard tool gives instructor feedback at all stages in the LMS, even when the user amends course content. A course accessibility report summarizes accessibility at course level and encourages instructors to build accessibility into their course material from the very start. These types of tools, supporting faculty give an insightful overview of issues, helping teachers find easy issues to get started on their inclusive design goals.
The Role of Data and Analytics
There is a mountain of content with lots of accessibility issues to be resolved! Content is constantly changing and currently there are insufficient remediation workflows in place to cope with this. The realization that accessibility issues affects all students shows that we need to be ready for fall classes when online learning will continue to be an important of our "new normal".
Having the necessary data ready to support on-boarding new students and instructors with course content which is being prepared for this environment is going to be a vital part of the process.
Related Resources