The European Accessibility Act—Consideration for the Publishing Industry and Benefits to Consumers Globally (W)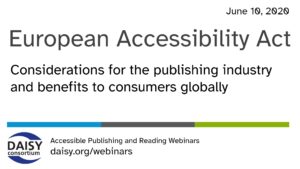 In our series of free weekly webinars June 10th saw a session focused on the new European Accessibility Act and how we might approach this as an industry.
This page contains:
Full Video of the Webinar
Speakers
Richard Orme, The DAISY Consortium—host and chair
Inmaculda Placencia Porrero—European Commission
Anne Bergman—Federation of European Publishers
Cristina Mussinello—Fondazione LIA
Luc Audrain—Inclusive Publishing Consultant
Session Overview
Introducing the European Accessibility Act
Inmaculda opened this webinar by giving us an overview of the EAA and how this applies to the publishing industry with regards to  services (ebook content and software) and products (such as ereaders), which fall within the scope of this new legislation. Both have accessibility obligations to meet within strict timelines and these were explained as well as transition periods
How the Publishing Industry Will Need to React and the Resulting Benefit to Consumers
Cristina Mussinelli gave us an overview of how the EAA is going to affect our industry and how we need to respond to the timelines for implentation, from various points of view—publishers, legal and consumers. We need to create an accessible publishing ecosystem to ensure that all areas of our digital workflow, from content creation through to paying for ebooks online and the accessibility of our reading app, are fully accessible. Every element of this workflow needs to play their part in complying with the requirements of the EAA.
By adopting international standards publishers can work towards creating born accessible digital content ie. content that is accessible from inception and available within mainstream publishing outlets. Accessibility metadata should be included as well as an accessibility statement describing accessibility features.
Helping Publishers Understand their Obligations
Anne Bergman showed how the FEP plans to raise awareness and why this is so important. The 29 publishers associations across Europe are ideally suited to promote accessibility obligations at bookfairs and in cooperation with booksellers and technology vendors. The Aldus project that unites bookfairs is organizing accessibility camps and various accessibility events to get publishers involved and play an active role in moving forward.
Some Concrete Organizational and Technical Advice
Luc Audrain, an inclusive publishing consultant in France, but formerly of Hachette Livre, talked about the move towards accessibility from a practical point of view and outlined organization and technical steps that publishers need to concentrate on in order to comply with the EAA.
Organizational Steps:
Raise Awareness
Build a Team or a Charter
Adopt a Progressive Approach
Decouple Specifications from the Purchase Order
Technical Steps:
Go Digital and Move to the EPUB 3 ebook format
Support the Main Actors of the Ecosystem and benefit from them
Use Open and Free Tools from the Community
Related Resources