2022: Developments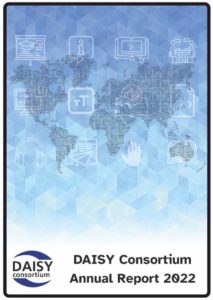 DAISY leads several open-source development initiatives that deliver practical solutions to Members and the wider community.
Obi
Our tool for audiobook production used globally received further enhancements including a simplified production workflow, new sampling rates for higher quality audio and controls for trimming trailing silence, along with other minor improvements and bug fixes.
Obi is used around the world as the primary tool for audio book creation and editing in many specialist organizations around the world who rely on this free tool for their content creation.
https://daisy.org/obi/
Tobi
Our tool for producing human narrated audio books is currently in maintenance mode and did not require updating but remains a popular solution for audio book creation.
https://daisy.org/tobi/
Pipeline
The DAISY Pipeline is our cross-platform framework for document processing and conversion, and the application received several updates including improvements for text to speech, embedded MP3 encoding, braille scripts and conversion optimization.
Through the Microsoft project an easy-to-use App utilizing Pipeline technology is being developed with the goal of delivering a conversion solution that can be run on older technology and without requiring a high level of technical expertise.
The various versions of Pipeline continue to provide the backbone of content creation and conversion for organizations around the world.
https://daisy.org/pipeline/
WordToEPUB Tool
Our very simple yet powerful tool to convert structured Microsoft Word Documents to accessible EPUB continued to grow in features and popularity. Improvements to language support have helped the tool reach a wider audience, and the recent improvements to Math support make WordToEPUB even more practical for education and technical publishing.
https://daisy.org/wordtoepub/
Save As DAISY
Utilizing Pipeline technology, several beta versions of the updated Save As DAISY plugin for Microsoft Word were released for testing and feedback. The simple plugin now supports conversion of Word documents to DAISY format 2.02, 3 and EPUB 3 with Media Overlays.
https://daisy.org/saveasdaisy/
Ace by DAISY
The Accessibility Checking for EPUB which both the specialist and mainstream publishing industry has come to rely upon receives regular updates for maintenance and feature enhancement. Improvements included increased language support, updates to support EPUB Accessibility 1.1 and the new success criteria added to WCAG 2.1.
https://inclusivepublishing.org/ace
Ace SMART
SMART is the Simple Manual Accessibility Reporting Tool for EPUB which helps people to perform the manual tests which cannot be automated. SMART has received a series of updates including support for the EPUB Accessibility Specification 1.1. Access to smart was also changed from previously being restricted to the Inclusive Publishing Partner level of Friend Membership, SMART is now freely available.
https://inclusivepublishing.org/smart
Accessible Publishing Knowledge Base
The EPUB accessibility reference resource from DAISY is used globally and provides essential information and advice directly from Ace accessibility tests. The Knowledge Base is regularly updated to ensure the best practices and advice it offers reflect the latest industry developments.
https://kb.daisy.org/publishing
Reading System Testing
The reading system accessibility testing site epubtest.org continues to capture and make available the latest scores for a range of reading system and assistive technology combinations. Over 80 tests were conducted by our volunteer testers, providing essential feedback to the application developers, and enabling consumers to make informed decisions about suitable reading software.
http://epubtest.org
InclusivePublishing.org
Well respected within the publishing industry, the Inclusive Publishing website is constantly updated with news, events, information and advice on accessibility and publishing. Our regular newsletters deliver highlights and constant reminders of our work, to a global audience of publishers, developers, educators and consumers.
https://inclusivepublishing.org
W3C Publishing
2022 saw continued efforts on accessibility standards related to publishing, with direct contributions to working groups and through leadership. Work was conducted in many areas including DPUB ARIA, MathML 4, EPUB 3.3, EPUB Accessibility 1.1 and WCAG 2.2.
https://www.w3.org/publishing/
Special Projects
EBraille Project
A new project for 2022 started to investigate the capabilities and limitations of current electronic braille file formats. A working group of international experts was formed and worked to identify the requirements for a modern flexible braille file format. Work has begun exploring how mainstream formats can be leveraged to deliver a modern eBraille solution.
https://daisy.org/ebraille/
EPUBCheck
Under contract to W3C, DAISY develop and maintain the EPUBCheck tool used globally in publishing for validating EPUB files against the specification to ensure they are well formed and function as expected on reading systems. Updates to the tool now enables support for testing against the EPUB 3.3 specification.
https://www.w3.org/publishing/epubcheck/
European Inclusive Publishing Forum
As we count down to the European Accessibility Act implementation in June 2025 the European Inclusive Publishing Forum continues to play a key role in facilitating information sharing, developing reference resources and working closely with partner organizations to help foster a common understanding of the Act and highlight differences in implementation between regions.
https://daisy.org/euipf/
Microsoft Low-Cost Assistive Technology Project
This project supported by Microsoft through their AI for Accessibility program enabled strategic developments to be made in 4 key areas:
The creation of a simple to install and highly accessible user interface for DAISY Pipeline, enabling accessible format creation and conversion without the barrier of technical expertise.
Piloting the delivery of accessible education resources on low-cost solar powered audio devices to people in low resource countries. Working with partner organizations, devices were provided to students aged 14-15 for some of whom this was their first time independently accessing a book.
Research on accessible books in browsers to transform EPUB publications with Media Overlays into a series of HTML files for reading directly in a browser on mobile devices. Test scripts have produced promising results.
Extending digital braille access to 2 currently unsupported languages, following research identifying potential languages and assessing their potential reach, the languages Swahili and Chichewa were selected. Working with language and braille experts the Lib Louis braille tables were created, tested and implemented in the latest version of Lib Louis, which will be adopted by tools including the DAISY Pipeline, NVDA, narrator, Duxbury, Sao Mai braille, and many other devices including mainstream mobile phones.
Our thanks to Microsoft for their support throughout this project.
https://daisy.org/mlcat/
Music Braille
The collaborative project to make strategic improvements to music braille conversion tools, file formats, and related resources, continued to make significant progress in 2022.
The MakeBraille converter tool received regular updates by dzb lesen to continue enhancing the application and address feedback from users. The mainstream notation tool, MuseScore, continues in make progress implementing accessibility features, and development of the interactive tool for blind musicians Sao Mai Braille also received updates with users reporting conversions are quick and reliable.
https://daisy.org/music-braille/
---
Next: Training & Support
2022 Annual Report Index: