2022: Message from the President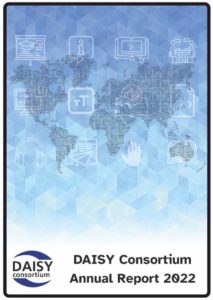 Like previous years for the DAISY Consortium 2022 was an eventful year. A year with a lot of exciting developments, but unfortunately with sad news as well.
On the 10th of December distinguished member of the board Scott Labarre passed away. Scott represented the National Federation of the Blind on the board of Directors of the DAISY Consortium since 2018. Besides his excellent contribution to the work of the board, Scott played an important role in the establishment of the Marrakesh Treaty. We owe an enormous debt of gratitude to Scott for his significant contribution to fulfilling DAISY's mission to make information accessible to people with disabilities, wherever they live in the world.
During 2022 Brad Turner, John Brown and Tove Dannestam left the DAISY board. We're thankful for their highly valued contribution to the work of the board. We're happy that we could welcome their successors Michael Johnson (Benetech), Alice O'Reilly (NLS) and Daniel Frelén (MTM). A highlight in 2023 was the turning into a Full Membership by the American Printing House for the Blind (APH), and we welcome Nicole Gaines to the board.
As a new Full Member APH took the initiative for a development of a new Braille file format that would address the issues with existing solutions and will work with new and existing braille displays. Based on this initiative DAISY started a new special project in which besides APH several members of the DAISY Consortium are participating.
Another promising development is the Low-Cost Assistive Technology project supported by a philanthropic grant under the Microsoft AI for Accessibility programme. In this project we will be developing a straightforward application to convert books so they can be used by devices typically in the hands of persons with disabilities in low resourced parts of the world. This includes basic phones, affordable braille displays, and even solar-powered audio players.
One of the Strategic goals of the DAISY Consortium is the increased availability of born accessible and access-enhanced publications. In this year we continued development of accessibility testing tools, the knowledge base, promoting born accessible publications, sharing of knowledge. It's exciting to see that around the world there is a growing number of initiatives to promote and support inclusive publishing. Often members of the DAISY Consortium play a leading role in these initiatives.
As you might expect from the DAISY Consortium and reflected in this Annual Report also in 2022 we made significant progress in the fields of standards, tools, member support, knowledge sharing and training.
All these achievements couldn't be reached without the excellent work of the management and staff of the DAISY Consortium. I'm confident that this great team will continue this success in 2023.
Maarten Verboom
President of the DAISY Consortium
---
Next: Vision, Mission and Key Activities and Community
2022 Annual Report Index: