2021: Message from the President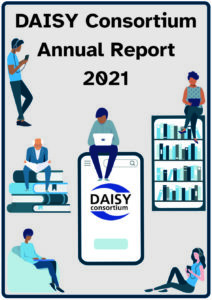 We're living in uncertain times. In 2021 the COVID-19 pandemic continued to have dramatic health and social economic effects globally. At the time of writing this message, we're confronted with a devastating war in Ukraine.
Despite these ominous developments, we continue to look forward and have to work for a better future. Like the DAISY Consortium has done in the 25 years of its existence, also in 2021 DAISY has been successful in making the world more accessible for people with print disabilities.
This Annual Report contains an impressive list of activities and achievements of last year. As you can read significant progress has been made and promising developments were initiated. This has been done in the fields of standards, tools, training and support and special collaborative projects. In this way the DAISY Consortium succeeded last year in supporting the membership and in endorsing inclusive publishing.
Due to the restrictions that were caused by the pandemic, the meetings of the Board of the DAISY Consortium and the Annual General Meeting were held online. Although we miss the interactive character of a 'physical' meeting, the online way of having a meeting has enabled many more members, friends, and partners to attend the meetings.
Special thanks for achievements of 2021 in sometimes difficult circumstances is owed to the management and staff of the DAISY Consortium.
I also wish to thank to Michael Katzmann and Michael Wright who each contributed to the DAISY Board for more than 10 years before stepping down last year.
In 2022 the European Accessibility Act has to be implemented in legislation in the 27 member states of the European Union. Part of this is the obligation that e-books and e-readers must be accessible from 2025. Undoubtedly this is a step forward towards the accessibility of information. The activities on inclusive publishing of the DAISY Consortium, the members, and partners, both in and also outside Europe will contribute even more with these developments in mind.
Like we've done last 25 years, also in 2022 we aim to come closer to the situation in which people have equal access to information and knowledge regardless of disability.
Maarten Verboom
President of the DAISY Consortium
---
Next: Vision, Mission and Key Activities and Community
2021 Annual Report Index: